GoRide™
GoRide™ Account-Based Ticketing system offers a seamless cross-border integrated door-to-door travel concept using the intelligent system for interoperable and multimodal smart ticketing. Using GoRide™, travelers do not have to worry about any mobile wallet or mobile credit recharging as they get charged for the tickets directly from their bank account. It can be easily integrated into every form of public urban and cross-border transit: buses, trams, trains, metros, trains, and additional services, such as parking tickets, bicycle rent, etc. Secure, simple to use, one-click button technology covers the whole process of a passenger's payment and validation experience, allowing him to buy the tickets anywhere and anytime.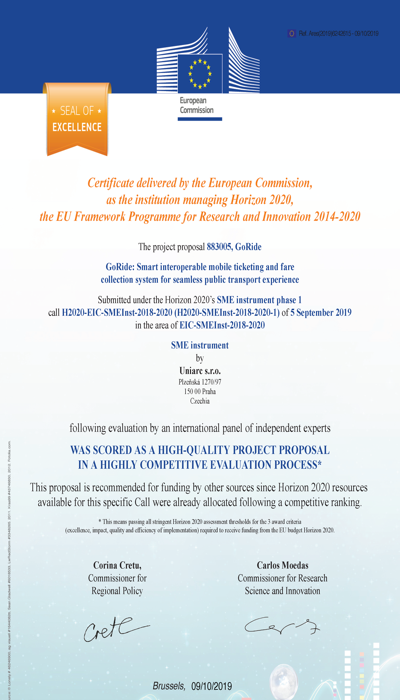 Four key benefits of the GoRide™ Account-Based Ticketing system for passengers:
No need to buy a ticket
Fare media is already in passengers' pockets
Contactless fare media (a safer way to pay and ride)
No need to understand the fares
GoRide™ is fully scalable and thus can be expanded and integrated quickly into new regions. The system can work side by side with any current ticketing system that is in use. GoRide™ is a simple tap-and-ride system that produces a flat charge. We would recommend implementing fare-capping rules where appropriate to ensure passengers do not spend more than they would if purchasing a period pass (like a weekly or monthly pass). This will help convert more people to use the system.
GoRide™ ticketing system successfully operates for the Public Transportation Company of the City of Hradec Králové, a.s. since 10/2017 under the brand name HopOn DPmHK. Hradec Králové, the eighth-largest city in the Czech Republic has a population of nearly 100,000 inhabitants. It was the FIRST smart mobile ticketing system in the Czech Republic.
GoRide™ Award: Seal of Excellence From EU Commission, Horizon 2020 Network Programme for Research and Innovation, 2019.
GORIDE™ FEATURES
Implementation FREE OF CHARGE
Deployment is fast, up to 2-3 weeks
Works both online and offline, automatically propose the best ticket and tariff
No expensive validators and physical interaction required
Shortening boarding time
No expensive hardware, cloud-based
No need to load funds into the city payment card
Buy pre-paid tickets anytime, anywhere
Pay with the in-app paired bank card directly from your bank account
Detailed ticket payment EET confirmation email
The cash flows directly to the operator's bank account
GoRide™ does not participate in any financial transactions
Automatically recognize mobile phone language
Easy to use "One-click ticket"- quick, safe, easy access to ticket
Inspector Application supports off-line and online inspection
Extensive Back-office real-time compatible data, full control of cash flow, users, and tickets management
Easy to adopt and implement new features
Business model - fixed subscription or % from tickets sales
Uniarc s.r.o fully owns the trademark GoRide™ and its graphic representation.